Welcome to the first issue of the PNEUDOS newsletter – we hope that you are well during these unusual and challenging times. Although we have not provided many updates on progress in recent times, PNEUDOS is very much thriving. We would like to provide a brief update on PNEUDOS and what has been happening behind the scenes in the last six months.
The PNEUDOS Study program - a brief recap
The PNEUDOS Study Program aims to define novel and innovative antimicrobial dosing regimens that can maximise therapeutic outcomes for ICU patients with pneumonia. This Program consists of four studies:
INTENSIVE-PNEUDOS: involves intensive pharmacokinetic sampling to describe antimicrobial distribution between physiological compartments and is currently recruiting patients from six ICUs across Australia, Belgium, France, Hong Kong and Malaysia
SPARSE-PNEUDOS: involves sparse pharmacokinetic sampling in a larger cohort of ICU patients from different countries, which will include Australia, Greece, Malaysia, Switzerland and the U.S.
PNEUDOS-MODSIM: involves advanced pharmacometric modelling and simulation approach to analyse the data from Studies 1 and 2 to propose optimised dosing regimens that can be evaluated in the next stage
PNEUDOS-VALIDATION: evaluate clinical efficacy, safety and tolerability of antimicrobial dosing regimens developed in Study 3
INTENSIVE-PNEUDOS Updates
Six sites are currently active screening and recruiting patients and we would like to thank Investigators at these sites for their massive efforts so far:
The Alfred Hospital, Melbourne – Prof Andrew Udy

Ghent University Hospital, Gent – Prof Jan De Waele

Nimes University Hospital – Prof Jean-Yves Lefrant and Dr Claire Roger

Prince of Wales Hospital, Hong Kong – Dr Lowell Ling

Royal Brisbane & Women's Hospital (RBWH), Brisbane – A/Prof Jayesh Dhanani

University Malaya Medical Centre, Kuala Lumpur – Dr Helmi Sulaiman and A/Prof Shahnaz Hasan
As of February 2022, we have recruited 62 patients; 27 for piperacillin/tazobactam, 19 for meropenem, 12 for ceftriaxone, and 4 for benzylpenicillin (Fig 1). Many congratulations to our highest recruiting site so far, University Malaya Medical Centre, which has recruited an amazing 49 patients. Excellent work!
We are aiming to recruit a maximum of 30 patients per drug with intensive sampling – so let us know how we can assist you to achieve this goal!
SPARSE-PNEUDOS Updates
Potential sites from Australia, Greece, Malaysia and Switzerland have been identified and they have been invited to participate in this study. Our team is currently organising RBWH and UQ HREC approval and we hope to share these documents with participating sites soon.
For your information, RBWH is also applying for HREC approval to participate in SPARSE-PNEUDOS to optimise patient recruitment. Patients who have received study antibiotics <72 hours can be recruited into INTENSIVE-PNEUDOS while patients who have received study antibiotics >72 hours can be recruited into SPARSE-PNEUDOS. We encourage INTENSIVE-PNEUDOS sites to consider this approach and please contact us if this is something you would like to do.   
The figure below shows current recruitment by site, including the target of 30 which we aim to achieve.
Figure 1: INTENSIVE-PNEUDOS current recruitment by site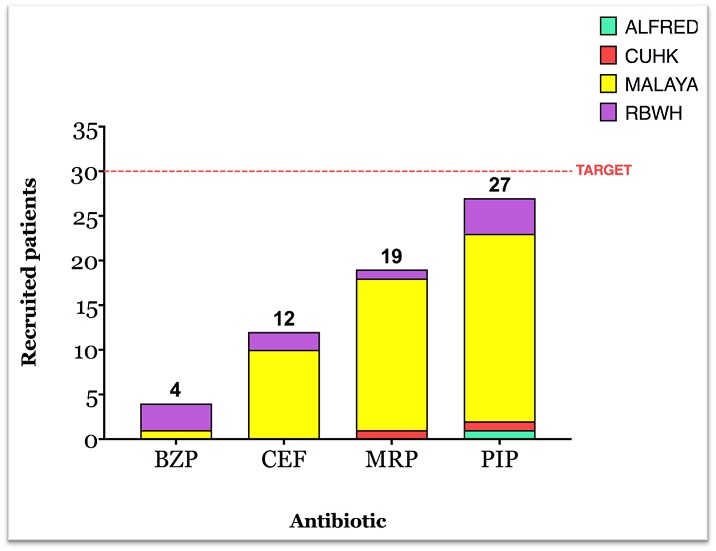 PNEUDOS Coordination and Management
If you have any questions and/or requests, please direct them to one of the following contacts: